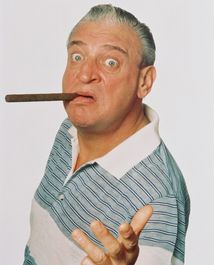 I get no respect!
In keeping with our most recent theme of EKGs, this post will be a case series scenario.
If you haven't already, I highly recommend watching Amal Mattu's EKG
video
on the importance of the (forgotten) 12th lead, aVR. You can also read about it
here
from Wellens et al and
here
from our Aussie masters of LITFL.
Consider this case I had the other week:
A 75 year old female with a history of hypertension presented via EMS complaining of 1 day of unrelenting bilateral upper chest pain, described vaguely, and was a first occurrence without any associated symptoms. She received 1 sublingual nitroglycerin tab en route to the hospital and, upon arrival, had syncope. She was resuscitated with IV crystalloid fluid and placed on a cardiac monitor.
Initial 12-lead ECG obtained is shown below:
Our initial concern was for aortic rupture or dissection. After blood draw, she was sent for a immediate CT chest/abd/pelvis (vitals holding stable without marked hypotension or tachycardia).
When she returned, we repeated the 12-lead, shown below:
Notice the evolving elevation of ST segment in lead aVR with reciprocal depression in the anterior and lateral leads--surely an ominous sign.
We called the cardiologist and activated the cath lab for what we considered a STEMI but cardiology refused to acknowledge as anything more than NSTEMI. Politics aside, the patient was found to have severe 90% stenosis of her mid LAD! She was stented and did well.
This is just another case shedding light on the improtance of the Rodney Dangerfield ("I get no respect!") lead: aVR.
Just remember, in the setting of suspected ACS, ST elevation in lead aVR could mean:
-Left main occlusion
-LAD occlusion
-triple vessel occlusion
Be forewarned!