Dear readers,
After a much needed break we are finally back to conclude our discussion of fluid resuscitation in the septic patient. The official EGDT Bar-Mitzvah after party!
By this point I hope you've come to fully internalize the concepts presented in
part I
. To briefly review:
In all sick, septic patients expect a certain level of volume depletion requiring resuscitation
Rivers produced an elegant (now slightly outmoded) algorithm for resuscitating septic patients. It begins by filling the tank (initial 20 cc/kg of fluid) and then, if still hypotensive, dropping a central line and titrating fluid boluses to a CVP of 8-12 mmHg. At that point pressors become an option for elevating MAP and improving peripheral perfusion.
CVP, unless extremely low (0-2 mmHg), is no longer considered a valid marker of fluid status--it only indicates RA pressure.
Ultrasound measurement of IVC diameter fluctuance with respirations is a better correlate to a patient's volume status
And so here we are. You checked the IVC, you bolused your patient. The IVC now shows minimal fluctuation. Hurray! Hold the celebration Shlomo; the patient is still hypotensive and poorly perfusing.
Is this full septic shock? Are pressors be the right call? Maybe we still need to give more fluid first? More importantly, if we do give more fluid, will it help to improve cardiac output (and in turn increase perfusion and MAP) or will it just back up and lead to ARDS and pulmonary edema?
Before addressing these conundrums, we must first revisit a simple concept that Guyton outlined decades ago. I'm talking of course about the Frank-Starling curve of cardiac function.
"Learn it, no pressure. ZING! See what I did there?"
Patients who have a PMH of CHF or ESRD may be on the low end of the curve, but would that preclude them receiving fluid? This is a common pitfall for many resuscitationists who fear iatrogenic pulmonary edema and fall short of adequately repleting these patients.
On the other end, sepsis and acidotic states can induce cardiac dysfunction in patients without previous cardiac insufficiency.
Measuring CVP or looking at IVC diameter is a reflection of preload to the right heart in static and dynamic terms, respectively. It says nothing of the left heart or its ability to pump more volume forward if given the opportunity with more fluid. The patient, therefore, may lie at any point along the graph. But which slope they occupy would otherwise remain a mystery.
Left heart is the dark side of the moon.
The topic surfacing here is the concept of fluid responsiveness: that increasing volume leads to an increase in cardiac output. Patients on a low slope of the F-S curve have minimal if any room to increase contractility with added volume, whereas healthier hearts maintain an ability to increase contractility to greater extents when more and more volume is added.
In his talks, Mike Stone
advocates empiric fluid loading in septic patients with 4+ liters of IV fluid (the "Bronze medal" approach).
Scott Weingart would have you check the IVC
dynamics until diameter fluctuations cease (the "silver medal" approach)
Mike and Matt go one step further
and assess the actual cardiac response to a small fluid bolus that is fully reversible (passive leg raising)--visualizing the F-S response. To assess whether your patient is a responder--that is, with added bolus the cardiac output increases by 5-10%, you would have to perform a complex set of measurements to arrive at the CO. Even though this is the most validated and thorough approach (the "gold medal") it comes at the cost of more calculations, operator skills, time consumption, and holding a pair of legs in the air for 2 minutes.
Consolidating the above I propose a simple, rapid, etiology-driven approach to resuscitating your sick and septic patients with the aid of an ultrasound - a way to decide which patients need more fluid and which will no longer benefit (no positive response)
By crudely scanning just 3 parameters--heart, lung, IVC--you will uncover your patients' fluid status and plot their Frank-Starling slope.
It all starts with the IVC: if it collapses > 50% with each breath (or distends > 18% with each mechanical breath), your patient--with very high certainty--needs volume.
-When the IVC no longer shows dramatic fluctuation, a benefit from additional fluid is dubious. In some it may cause harm, overwhelming the myocardium leading to back flow (the patient on a lower F-S slope).
Near 100% collapse. Better give fluid.
Fully distended. Need to check left heart.
At this point we scan the heart. A detailed echo is not necessary; just one view qualitatively checking for LV systolic function (is the LV hyper dynamic with kissing walls or is it severely dilated with poor contractility?) can provide you with the information needed in less than 15 seconds.
Dilated LV, poor systolic function.
If the left heart appears to be contracting well, an additional bolus may very well increase cardiac output--the patient is fluid responsive (or at least tolerant).
If the heart appears overloaded, with poor systolic function proceed to a quick scan of the lungs. Numerous B lines, as in pulmonary edema, indicate that this patient occupies a lower slope along the Frank-Starling graph (poor cardiac function) and would likely not respond well (cannot tolerate) to additional volume. In this scenario, initiation of vasopressors to increase output and MAP would be more appropriate.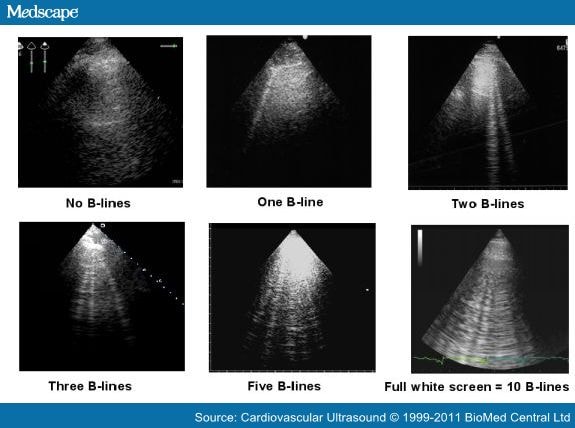 Thanks Medscape!
If the lungs defy expectations and appear rather clear (no greater than 3-4 B lines per intercostal field) than this patient may still be fluid tolerant and accommodate an additional small fluid bolus.
check IVC (large diameter variability?) ---YES--->give fluid
----NO----> proceed to...
check the HEART (hyperdynamic/normal systolic function?) ---YES-->give fluid
---NO----> proceed to...
check the LUNGS (clear? No more than 2-3 B-lines?) ---YES--->give fluid
---NO--->consider pressors